Health and Mental Health after the Central Italy earthquake
Natural and man-made disasters can bring great physical and emotional suffering to affected populations and their communities. Italy is a great land that has been plagued throughout history by many natural disasters, both large and small.
The resiliency of Italy society and its people is well-known. The new Italian National Trauma Center (INTC) builds upon this resiliency and supports the person and social resiliency of Italian communities and persons devastated by violence.
The INTC is the first of its kind in Italy. It uses modern scientific methods to help restore the emotional and physical health and well-being of those affected by natural and man-made catastrophes. The INTC's holistic approach focuses on bringing wellness again to the body, mind, and spirit of traumatized persons in a culturally sensitive, Italian way. This means respect for local cultural norms, gender, age, and the social-economic context of the affected Italian people.
When disaster strikes, citizens can not only loose family members but everything they value such as their buildings, beautiful churches and monasteries, farms, and animals and their businesses as livelihood. The emotional wounds of these losses and challenges can be devastating and are often invisible.
The Italian National Trauma Center works to Restore Hope and Human Dignity by making the invisible visible through the collective efforts of the community, the local healthcare system, and national authorities such as the Civil Protection and the Italian Red-Cross.
---
Mental Healt After Natural Disasters in Italy
More than a year has passed since the tragic series of earthquakes that hit the Abruzzo, Lazio, Marche, and Umbria regions of central Italy between August, 2016, and January, 2017. In light of these recent earthquakes and the wide range of international literature on the subject, it seems reasonable to quantify, on both a human and material level, the possible consequences these natural disasters have on the mental health of a severely affected population. To this end we have carried out a brief review of the national literature on the subject and have compared it to international data.
The consequences of traumatic and catastrophic mass events on mental health are indeed well known and documented internationally [1, 2]. Posttraumatic stress disorder (PTSD) appears to be the most frequent form of mental disorder observed after a catastrophic event [2, 3, 4, 5]. It has been found to particularlly affect vulnerable groups, such as children [8] and individuals with histories of mental illness [6, 7], in areas of high exposure to the traumatic event [3, 4]. Between 80% and 90% of individuals with PTSD have coexisting psychiatric disorders (depression, anxiety, substance abuse, and dissociative disorders), a low quality of life, and a high risk of morbidity for medical problems, unemployment, and relationship instability [9, 10, 11, 12].
We have found a total of twenty Italian studies that take into consideration the consequences of exposure to natural disasters on mental health. Consistent with the international literature, our results indicate that PTSD tends to be the most frequent diagnosis for victims of traumatic events [3] with a finding of PTSD diagnosis in 25.6% of the cases examined on average. Consistent with international studies we found significantly higher symptom levels in adults, children [19, 21], and women [22] located in the areas closest to the epicenter. In addition, significantly higher maladaptive behavioral prevalence rates were found among subjects with PTSD, especially those who were male [22]. There was also evidence of increased use of alcohol, tobacco, and cannabis in the post-earthquake period [24]. Some studies have taken into account the presence of somatization symptoms and eating disorders, which are very high even many years after the traumatic events took place [13, 14, 18, 23].
When considering the trajectory of PSTD over time, Italian studies present a higher average time between event and survey than the international literature, reaching a maximum time interval of 40 years. It appears from these data that despite the magnitude of the catastrophic event and any socio-econimic factors of the population, if not treated, PTSD can be a chronic and highly prevalent disorder among those affected [18, 20] . The number of long-term studies on PSTD in the international literature is limited. This is perhaps due to the widespread belief that PTSD symptoms progressively and spontaneously resolve over time. With that being said, even in this context, the results are conflicting [2, 15, 16, 17].
Despite the high risk of natural disasters in Italy, many areas of research in this field remain unexplored. No Italian study has yet to undertake the systematic assessment of the mental health needs of traumatized populations in regards to prevention, treatment, and secondary trauma, which can affect those who help victims of trauma. Considering the vast international literature on the subject, we believe that Italian research must put more weight on addressing these important issues in order to better respond to the needs of the populations that have suffered trauma.
---
Harvard Italian Team
The Harvard-Italian Team composed of Italian and American psychiatrists, psychologists and general medical doctors is deeply committed to assisting the communities affected by the recent earthquakes. Hundreds of thousands of local residents have lost their homes and their livelihoods from this disaster that first struck in August 2016. Unfortunately, it is well known from scientific studies of other similar disasters that six months after the initial event mental health problems emerge. It is estimated that 25% of adults and 10% of children will suffer from serious mental health problems due to the earthquake. Elderly citizens are especially vulnerable. After the 2009 L'Aquila earthquake in Abruzzo the Harvard-Italian Team had a successful intervention, training over 100 Italian medical doctors from the region in mental health diagnosis and treatment. A special science-based toolkit that was culturally appropriate to the Italian context was translated into Italian and widely disseminated.
The Harvard-Italian Team proposes a similar intervention in Central Italy. However, this time around due to the many small villages damaged by the earthquakes, the focus will be on the mental health training and support of local community leaders and local medical doctors.
The Harvard-Italian Team has the support of Professor Enrico Brugnoli, Direttore dello Dipartimento Scienze del Sistema Terra e Tecnologie per L'Ambiente, Consiglio Nazionale delle Ricerche, Ranieri Guerra, Director General of Prevention, Ministry of Health, the patronage of Sig. Guiseppe Germani, Mayor of Orvieto.
---
HEALING INVISIBLE WOUNDS, RICHARD F. MOLLICA, MD, MAR
In these personal reflections on his thirty years of clinical work with victims of genocide, torture, and abuse in the United States, Cambodia, Bosnia, and other parts of the world, Richard Mollica describes the surprising capacity of traumatized people to heal themselves. Healing Invisible Wounds reveals how trauma survivors, through the telling of their stories, teach all of us how to deal with the tragic events of everyday life. Mollica's important discovery that humiliation—an instrument of violence that also leads to anger and despair—can be transformed through his therapeutic project into solace and redemption is a remarkable new contribution to survivors and clinicians. This book reveals how in every society we have to move away from viewing trauma survivors as "broken people" and "outcasts" to seeing them as courageous people actively contributing to larger social goals. When violence occurs, there is damage not only to individuals but to entire societies, and to the world. Through the journey of self-healing that survivors make, they enable the rest of us not only as individuals but as entire communities to recover from injury in a violent world.
The free e-book is accessible via the following link: https://muse.jhu.edu/book/21116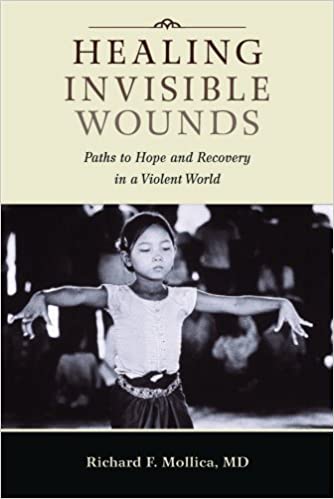 ---